Experience the beauty of nature without having to sleep in uncomfortable tents. That's the whole point of glamping. Most of these accommodations offer maximum amenities, including comfortable beds, a kitchen, a toilet, and they are located in peaceful locations such as forests, lakes, or mountains. So the natural endorphins can work at full blast.
Imagine you're lying under a fluffy duvet, with only the landscape around you and the stars above. Silence. You make a warm cup of tea or coffee and smile at your sweetheart. Time passes differently when the WiFi isn't working and sunlight is streaming through the room. You relax, read, or just stare at the peace around you. Long into the night. There's no hurry. Imagine the coziest moments of your life.
We are fully equipped for a one- to two-night stay.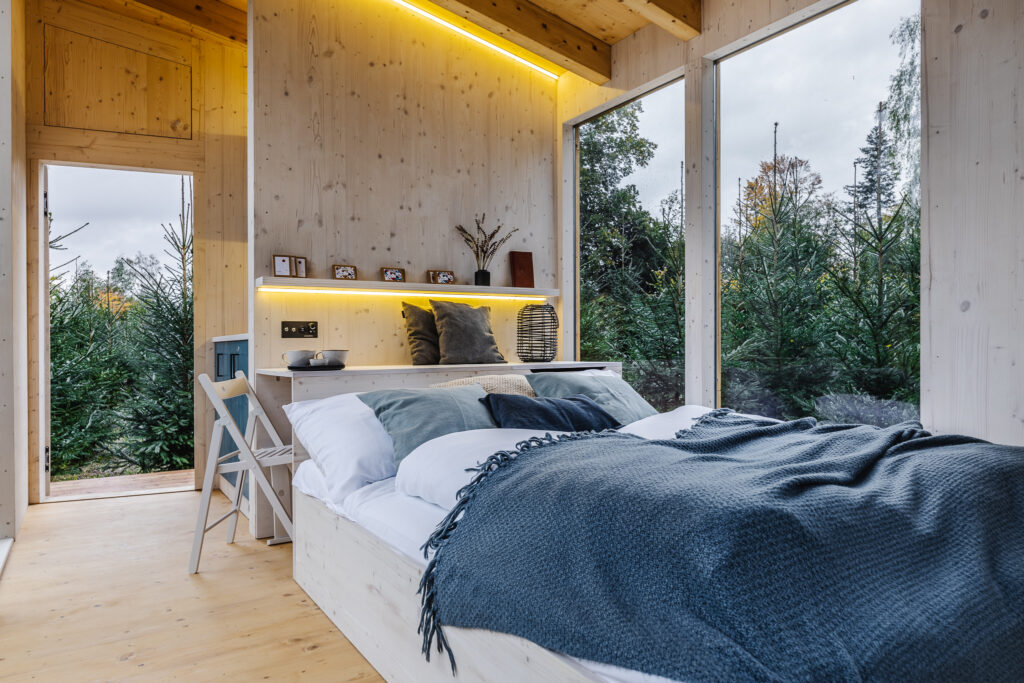 Benefits for body and mind
According to American Psychological Association, being in nature can reduce stress, anxiety and depression levels. Every hike, every walk, every glamping trip provides a great opportunity to spend more time in nature, in a peaceful environment, which can have a positive effect on your mental health.
And also on your well-being, mood or sleep. How do you like the idea of waking up in a quiet forest? No busy roads, no passing tram under the window, no city noise. Just you and a new lease of life.
A great retreat when you want to switch off for a while and take a break from your hectic life.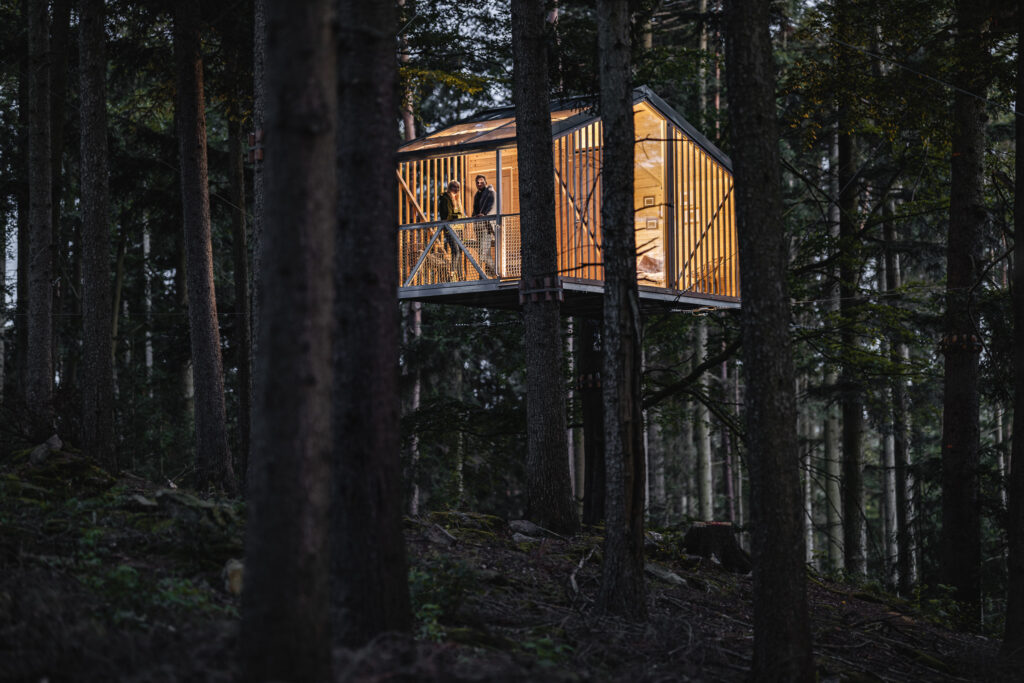 Who will love glamping?
Anyone who craves an unconventional experience. If you want to explore the corners of nature without giving up comfort and convenience, glamping accommodation is the right place for you. Age doesn't matter. Work doesn't matter. Your previous experience of being out in the wilderness doesn't matter. It's all about your needs and wants.
Who will love our cabins?
Glamping enthusiasts looking for a unique experience
Newbies who would like to experience glamping for the very first time
Architecture & design lovers who want to see a unique building
Overworked individuals who finally need a day off
Couples looking for romance, privacy and a slightly different date
Tired parents who crave time to themselves
Girlfriends, sisters, moms and daughters, in other words, a great girls' night out
Gentlemen on a solo trip, because men can have their days too
Artistic souls looking for an inspiring environment
Seniors, because they deserve comfort, nature's energy and experiences
_ _ _
OOTOOLNO sees glamping as a momentary bliss in the middle of nature. The mind slows down, the body relaxes, and life gets a new perspective for a moment. How about bringing a similar comfort into your daily routine? Take care of your sleep, cheerful mood, and physical and mental health, because we shouldn't just feel good on holiday. That's what our well-being blog is all about. Read on and get inspired.